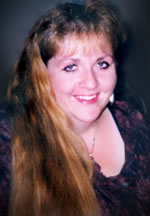 Pandora Pappas is a third generation clairvoyant psychic who grew up with the acceptance of foreknowledge and spiritual connection. Her birth name, Pandora, means "all gifts" and acknowledges both of her gifted grandmothers. Her mission is to bring you closer to the true understanding of self, to allow you to explore your options and to clarify your goals and purpose. For the past 23 years, she has been counseling and guiding thousands of seekers to find their true pathways through life toward enlightenment. Together with Pandora, you can find answers to your questions: past, present and future. her calming influence and support will help you know what to perceive from the future and how best to move through it. Please join Pandora in preparation for your meeting by taking a moment to breathe deeply, quiet your mind, and try to relax. Her routine includes meditation, visualization and cleansing my aura and reading space.
Education and Experience
Pandora exhibited clairvoyant and telepathic abilities in early childhood and was drawn to the studies of the mystical arts to further sharpen her abilities. These include Tarot, Runes, Astrology, Numerology, Automatic writing, Crystal healings and other divination methods. Celtic on her maternal side and Greek on her paternal side for centuries, she was encouraged to follow her vision as had countless generations before her. Her intentions have always been of the highest spiritual order.

She is clairaudient, clairvoyant and clairsentient as well as being gifted with wisdom beyond her years. She has been giving psychic readings for most of her life, becoming a professional psychic in 1984. Pandora has been heard on WYYD Y108, Virginia.
Pandora Pappas is available ... and ready to take your call!



$3.99/min - First Time Callers get 3 Minutes Free!*
Read Pandora's Feedback! | Leave Feedback | Email Pandora