These are the cards that the Tarot has drawn for you. You may want to save or print this page if you would like to ponder their messages later.
Past
The Past position in the reading refers to recent events and challenges that just took place, things that lead up to the present situation, and your role in them.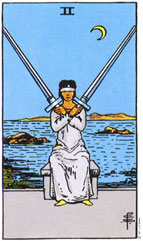 Two of Swords
The Two of Swords symbolizes a choice you faced. The decision is put off, and the seeker is stuck, unable to face the truth. The blindfold she wears willingly shows her inability to open her eyes to reality. She has chosen to turn away from her intuition and emotions, symbolized by the ocean. She is a passive participant, crossing her arms over her chest to protect her heart. Putting this decision off may have bought you some time to gain control over your emotions, but the decision inevitably had to be made, and your procrastination may have caused the decision to be made in spite of you.

Present
The Present position in the reading represents what is happening right now. Typically, this is what triggers you to seek out a reading. This card can often help you to understand what steps to take next.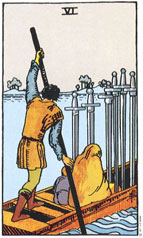 Six of Swords
The Six of Swords represents a retreat that you are in the process of taking. You have been dealing with heavy stress, signified by the choppy water behind the boat. This card can also indicate that you feel "haunted" by someone or something, and you seek closure. You are in the process of leaving this behind, setting forth for the calmness of still waters. You are learning to balance your mental state, evidenced by the swords that do not fall though the boat is in motion. You are also the protector in the situation. Your loved ones are relying on you to carry them away from troubled waters. You won't let them down.

Future
The Future position in teh reading describes what is just around the corner. It's an official "heads up" about where the situation is heading and how you may navigate through it towards the best possible outcome.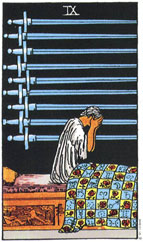 Nine of Swords
The depth of mental anguish felt by the person in the Nine of Swords is beyond description. The carving on the bed shows the violence that arises, and suggests that someone you love may be involved in the battle. The swords on the wall indicate that you will not be struck directly at this time. Sleepless nights, anxiety dreams, and worry will plague you: note that the person sits up, head in hands, crying alone in bed. This body language epitomizes guilt, depression, and despair. There will be a need for comfort, emotional shelter, forgiveness, and healing.

We hope you enjoyed your Three Card Reading. To go even deeper, try our more comprehensive Ten Card Reading.
Tarot Phone Readings
For an in-depth psychic look into your situation, call one of our Tarot phone readers and get your first three minutes free!
Joy Light is available!
Psychic Medium, Spiritual Counseling on Love & Relationships, Healer ... [see more]




$3.99/min -

First Time Callers get 3 Minutes Free!*

Pandora Pappas is available!
Honest, fast answers here to get to the heart of matters with you ... [see more]




$3.99/min -

First Time Callers get 3 Minutes Free!*

Tommy Ross is available!
Professional Tarot Card Reader & Teacher - 14 Years Experienced ... [see more]




$3.29/min -

First Time Callers get 3 Minutes Free!*

Debra Floyd is available!
Certified professional psychic, psychic medium and Master Tarot reader! ... [see more]




$3.99/min -

First Time Callers get 3 Minutes Free!*

Jeff Nelson is available!
Runes coupled with tarot to give all that you need to assist you life ... [see more]




$2.99/min -

First Time Callers get 3 Minutes Free!*

Sharona Evans is available!
Psychic Consultation and Advice ... [see more]




$4.99/min -

First Time Callers get 3 Minutes Free!*

Sharon Graham is available!
Witch, Spell work, Tarot, Spiritual Advisor ... [see more]




$4.99/min -

First Time Callers get 3 Minutes Free!*


Illustrations and images from the Rider Tarot Deck reproduced by permission of U.S. Games Systems, Inc., Stamford, CT 06902 USA. Copyright © 1971, 1982 by U.S. Games Systems, Inc. The Rider Tarot Deck ® is a registered trademark of U.S. Games Systems, Inc. The world's largest source of tarot and cartomancy is U.S. Games Systems, Inc. A catalog may be obtained by contacting the company at 179 Ludlow Street, Stamford, CT 06902, Fax: 203-353-8431 or call 1-800-544-2637.