These are the cards that the Tarot has drawn for you. You may want to save or print this page if you would like to ponder their messages later.
Past
The Past position in the reading refers to recent events and challenges that just took place, things that lead up to the present situation, and your role in them.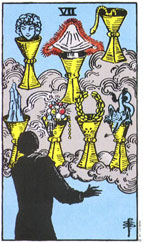 Seven of Cups
Flights of fancy and daydreaming are indicated by the Seven of Cups. In the picture we see the many visions of happiness that the character sees in the cups, but they are all unrealistic goals at this time: a castle in the clouds, jewels, dragons, and holy figures, among others. You may have experienced a preoccupation with visions of fantastic goals as a means of escaping an emotional reality you were unable to confront. The real and tangible sources of happiness in your life are the things you should have been focusing on, opening up to the love around you.

Present
The Present position in the reading represents what is happening right now. Typically, this is what triggers you to seek out a reading. This card can often help you to understand what steps to take next.
Seven of Pentacles
The Seven of Pentacles represents a sense of dissatisfaction that you feel with the results of a project that you've recently completed, either in the workplace or in your personal life. What you have planted is bearing fruit, but not quite to your satisfaction. Despite the less than satisfactory results, you are glad that the project is over. You're grateful that you now have time to relax, but feel that you could have done more. There is much to be thankful for. You have created something that has a life of its own, and it will continue to grow. This card can often be a warning against perfectionism, and a sign that you must sometimes step back and let go.

Future
The Future position in teh reading describes what is just around the corner. It's an official "heads up" about where the situation is heading and how you may navigate through it towards the best possible outcome.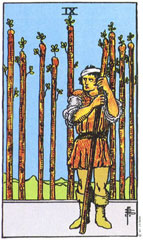 Nine of Wands
The Nine of Wands indicates a pause, a time to "wait and see." You have seen many battles relating to your situation, and you have fought hard. Like the man in the card whose head is bandaged but unbowed, your Will remained intact. These conflicts have strengthened you, but they have hardened you, making you better able to weather life's struggles, but at what price? Make a note of your defenses and when they were triggered...they may have made you seem unapproachable. Someone was trying to earn your trust, which has been hard won at best. You may have seen trouble where there wasn't any.

We hope you enjoyed your Three Card Reading. To go even deeper, try our more comprehensive Ten Card Reading.
Tarot Phone Readings
For an in-depth psychic look into your situation, call one of our Tarot phone readers and get your first three minutes free!
Shanti Skelly is available!
Love, Money, Health Happiness I'm here to help ... [see more]




$4.00/min -

First Time Callers get 3 Minutes Free!*

Pandora Pappas is available!
Honest, fast answers here to get to the heart of matters with you ... [see more]




$3.99/min -

First Time Callers get 3 Minutes Free!*

Debra Floyd is available!
Certified professional psychic, psychic medium and Master Tarot reader! ... [see more]




$3.99/min -

First Time Callers get 3 Minutes Free!*

Tommy Ross is available!
Professional Tarot Card Reader & Teacher - 13 Years Experienced ... [see more]




$2.99/min -

First Time Callers get 3 Minutes Free!*

Michele Hudson is available!
Psychic Medium/ Energy Healer/ Reiki Master ... [see more]




$3.99/min -

First Time Callers get 3 Minutes Free!*

Chloe Anderson is available!
Accuracy, Integrity & Detail: Special Rate $2.99 ... [see more]




$2.99/min -

First Time Callers get 3 Minutes Free!*

David Newman is available!
Psychic, Witch, Master Tarot Advisor ... [see more]




$3.99/min -

First Time Callers get 3 Minutes Free!*


Illustrations and images from the Rider Tarot Deck reproduced by permission of U.S. Games Systems, Inc., Stamford, CT 06902 USA. Copyright © 1971, 1982 by U.S. Games Systems, Inc. The Rider Tarot Deck ® is a registered trademark of U.S. Games Systems, Inc. The world's largest source of tarot and cartomancy is U.S. Games Systems, Inc. A catalog may be obtained by contacting the company at 179 Ludlow Street, Stamford, CT 06902, Fax: 203-353-8431 or call 1-800-544-2637.