These are the cards that the Tarot has drawn for you. You may want to save or print this page if you would like to ponder their messages later.
Past
The Past position in the reading refers to recent events and challenges that just took place, things that lead up to the present situation, and your role in them.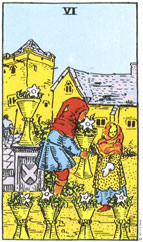 Six of Cups
Childhood memories, family gatherings, and friends from the past are all suggested by the Six of Cups. You may have encountered a friend or lover from your past that you hadn't seen in many years. The child bearing the flowering cup indicates the positive nature of this meeting. The pleasant home in the background is also a strong indicator of family and home. You may have spent more time with family and old friends. This is the root of the present situation, and serves as the foundation for the dreams and goals you are currently focusing on.

Present
The Present position in the reading represents what is happening right now. Typically, this is what triggers you to seek out a reading. This card can often help you to understand what steps to take next.
Strength
Strength is the ninth card in the Major Arcana, and is given the number eight, which is a number of great good fortune in Eastern traditions. This card is often associated with the Zodiac sign Leo, which is ruled by the Sun, and eight is the number of solar festivals celebrated by many Earth-centered religions. A gentle looking woman, robed in white for purity, cradles a fierce lion's head in her tender hands. She appears to be soothing the beast, closing its japing jaws. The red lion symbolizes anger, rage, and violence. The symbol over the woman's head is the sign of infinity, reminiscent of a halo, and denotes her spirituality and her enlightened mind. You may imagine the two figures on the card as the two sides of yourself: the woman is your superego, and the lion is your id.

The Strength card encourages you to get control over your anger through an understanding of where it comes from. This card can indicate a need to change your approach to difficulties and issues with others as well. By seeking first to understand and accept the more negative aspects of yourself and others, your situation can be managed more effectively, and with more beneficial results for everyone involved.

Future
The Future position in teh reading describes what is just around the corner. It's an official "heads up" about where the situation is heading and how you may navigate through it towards the best possible outcome.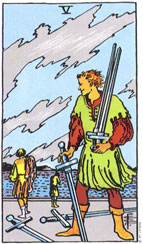 Five of Swords
The Five of Swords indicates defeat. You may soon lose a battle (most likely a mental one), and find yourself in retreat, seeking to calm the choppy waters of your emotions. The character collecting the swords suggests that a score-keeper, motivated by revenge and vindication, will be at the heart of your troubles. This card can also be a warning to you to avoid your own lusts for revenge, showing that only hurt and pain will be the result. Remember to take time to heal your wounds. Concede your defeat when it arrives, and find new things to focus on.

We hope you enjoyed your Three Card Reading. To go even deeper, try our more comprehensive Ten Card Reading.
Tarot Phone Readings
For an in-depth psychic look into your situation, call one of our Tarot phone readers and get your first three minutes free!
Joy Light is available!
Psychic Medium, Spiritual Counseling on Love & Relationships, Healer ... [see more]




$3.99/min -

First Time Callers get 3 Minutes Free!*

Tommy Ross is available!
Professional Tarot Card Reader & Teacher - 12 Years Experienced! ... [see more]




$2.99/min -

First Time Callers get 3 Minutes Free!*

Debra Floyd is available!
Certified professional psychic, psychic medium and Master Tarot reader! ... [see more]




$3.99/min -

First Time Callers get 3 Minutes Free!*

Lillee Allee is available!
Accurate Answers, Real Results! Soulmate Specialist ... [see more]




$3.99/min -

First Time Callers get 3 Minutes Free!*

Jacqui Newman is available!
NEED Help? WANT Answers? Jacqui Newman has them! Expert Psychic and Tarot Reader ... [see more]




$4.99/min -

First Time Callers get 3 Minutes Free!*


Illustrations and images from the Rider Tarot Deck reproduced by permission of U.S. Games Systems, Inc., Stamford, CT 06902 USA. Copyright © 1971, 1982 by U.S. Games Systems, Inc. The Rider Tarot Deck ® is a registered trademark of U.S. Games Systems, Inc. The world's largest source of tarot and cartomancy is U.S. Games Systems, Inc. A catalog may be obtained by contacting the company at 179 Ludlow Street, Stamford, CT 06902, Fax: 203-353-8431 or call 1-800-544-2637.