These are the cards that the Tarot has drawn for you. You may want to save or print this page if you would like to ponder their messages later.
Past
The Past position in the reading refers to recent events and challenges that just took place, things that lead up to the present situation, and your role in them.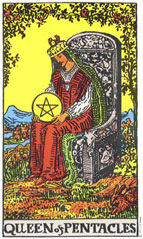 Queen of Pentacles
The receptive aspect of Earth, the Queen refers to you, or someone who strongly influenced your life in the situation in question, but does not have to be female. Her outdoor throne, surrounded by Earth's prosperity and abundance, denotes that she takes charge of money matters in a cautious and practical manner, and that she is successful in her business dealings. Her productivity and creativity are symbolized by the appearance of several blooming plants, and the hare, traditionally associated with fertility. This person valued her self-sufficient independence, and worked hard to maintain her "creature comforts".

Present
The Present position in the reading represents what is happening right now. Typically, this is what triggers you to seek out a reading. This card can often help you to understand what steps to take next.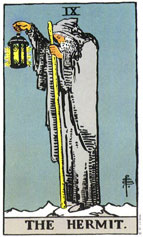 The Hermit
The Hermit is the Tenth card in the Major Arcana, and is given the number nine to indicate the pinnacle of enlightenment. He stands atop a cold, snowy mountain peak, at the end of a journey he has made alone. He holds a lantern and gazes down the way he has traveled, leading any other seekers to what he has attained. The lantern is rich in symbolism; it denotes both his enlightenment and his willingness to aid others to it. It contains a six-pointed star, which is comprised of two triangles pointing in opposite directions: one up, one down. This shape reveals more of the Hermit's message: the journey has been inner as well as outer, and his seeking has been within as well as without. He leans on his staff, which is a symbol of his power, making practical use of what he has come to know and master. His grey cloak indicates that he has synthesized the light and dark aspects of himself for his own benefit.

The Hermit signifies guidance. This may be your own "Higher Self" speaking to you, or it may be advice given to you by a trusted friend, or a seasoned professional. It is wise to listen to the wisdom offered, and to your own gut feelings, in the present situation. Those who speak from experience may be able to give you some much-needed perspective, as they have been down the path you are currently following. The Hermit can also indicate a need to withdraw from the outer world to focus on your innermost self.

Future
The Future position in teh reading describes what is just around the corner. It's an official "heads up" about where the situation is heading and how you may navigate through it towards the best possible outcome.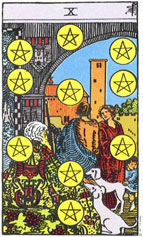 Ten of Pentacles
Overall, the Ten of Pentacles is a card of a good home life, security, prosperity, and happiness...on the surface. Looking closer, the family appears not to notice how lucky they are, which is the deeper message of the card. The man and woman do not walk together; rather, they pass each other briefly as they go through their mundane motions. The people in the situation will take what they have, and each other, for granted. They will be so wrapped up in their daily routines that they will not take the time to acknowledge the magic and blessings around them, symbolized by the ten pentacles surrounding their home. The ten pentacles also have a deeper meaning, echoing the ten Sephiroth of the Tree of Life. Remember to look past the trappings of the material world, and seek the blessings of the soul.

We hope you enjoyed your Three Card Reading. To go even deeper, try our more comprehensive Ten Card Reading.
Tarot Phone Readings
For an in-depth psychic look into your situation, call one of our Tarot phone readers and get your first three minutes free!
Joy Light is available!
Psychic Medium, Spiritual Counseling on Love & Relationships, Healer ... [see more]




$3.99/min -

First Time Callers get 3 Minutes Free!*

Pandora Pappas is available!
Honest, fast answers here to get to the heart of matters with you ... [see more]




$3.99/min -

First Time Callers get 3 Minutes Free!*

Jeff Nelson is available!
Runes coupled with tarot to give all that you need to assist you life ... [see more]




$2.99/min -

First Time Callers get 3 Minutes Free!*

Debra Floyd is available!
Certified professional psychic, psychic medium and Master Tarot reader! ... [see more]




$3.99/min -

First Time Callers get 3 Minutes Free!*

Kydra Sommer is available!
Special Price Renowned Psychic T.V. Radio Clairvoyant, Chancellor, ... [see more]




$2.49/min -

First Time Callers get 3 Minutes Free!*

Michael Dunlap is available!
Natural Sensitive & Witch known world-wide for accuracy & Magical advice! ... [see more]




$2.99/min -

First Time Callers get 3 Minutes Free!*

R John MacDonald is available!
John psychically reads the individual's inner state and outer circumstances. ... [see more]




$3.00/min -

First Time Callers get 3 Minutes Free!*

Cheryl Andary is available!
TESTED & CERTIFIED - HONEST yet gentle RELATIONSHIP EXPERT, non-judgmental. ... [see more]




$3.99/min -

First Time Callers get 3 Minutes Free!*

Nicole Bowman is available!
Love, Relationships, & Prosperity. Clear, accurate answers ... [see more]




$4.00/min -

First Time Callers get 3 Minutes Free!*

Jacqui Newman is available!
NEED Help? WANT Answers? Jacqui Newman has them! Expert Psychic and Tarot Reader ... [see more]




$4.99/min -

First Time Callers get 3 Minutes Free!*


Illustrations and images from the Rider Tarot Deck reproduced by permission of U.S. Games Systems, Inc., Stamford, CT 06902 USA. Copyright © 1971, 1982 by U.S. Games Systems, Inc. The Rider Tarot Deck ® is a registered trademark of U.S. Games Systems, Inc. The world's largest source of tarot and cartomancy is U.S. Games Systems, Inc. A catalog may be obtained by contacting the company at 179 Ludlow Street, Stamford, CT 06902, Fax: 203-353-8431 or call 1-800-544-2637.