These are the cards that the Tarot has drawn for you. You may want to save or print this page if you would like to ponder their messages later.
Past
The Past position in the reading refers to recent events and challenges that just took place, things that lead up to the present situation, and your role in them.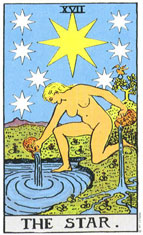 The Star
The Star is the eighteenth card in the Major Arcana, and is given the number 17 to indicate the conscious mind represented by the Magician (1) opening up to the many directions possible with the control over his Chariot (7). Below one giant yellow star (1), and seven smaller white stars (7), a beautiful woman kneels with one knee on land and one foot on the water. With a jug in each hand, she pours water into both. She is taking inspiration from her creative, intuitive side (water), applying it to her surroundings and daily life (earth), and using the power it gives her to replenish the source of her creativity (water), making a complete cycle. In essence, she is healing herself with water, the source of all life. Her nakedness is symbolic of her purity and honesty, to others as well as to herself. She is in her most natural state, indicating that her task comes with ease, and her calm, serene expression gives her work a meditative quality.

The Star in your past represents your hopes and dreams. This may indicate the moment that you realized what you wanted to become, or it may remind you of dreams you used to believe could be your future someday. At this time, you were close to the source within your mind and heart, and felt replenished by freeing your spirit. You allowed your true self to shine through. You immersed yourself in the things that brought you joy, and inner peace. If your situation indicates health issues, this is a card that indicates a time in your past spent replenishing and healing of the physical body as well.

Present
The Present position in the reading represents what is happening right now. Typically, this is what triggers you to seek out a reading. This card can often help you to understand what steps to take next.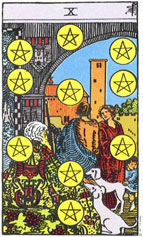 Ten of Pentacles
Overall, the Ten of Pentacles is a card of a good home life, security, prosperity, and happiness...on the surface. Looking closer, the family appears not to notice how lucky they are, which is the deeper message of the card. The man and woman do not walk together; rather, they pass each other briefly as they go through their mundane motions. The people in the situation take what they have, and each other, for granted. They are so wrapped up in their daily routines that they do not take the time to acknowledge the magic and blessings around them, symbolized by the ten pentacles surrounding their home. The ten pentacles also have a deeper meaning, echoing the ten Sephiroth of the Tree of Life. This serves as a reminder to look past the trappings of the material world, and seek the blessings of the soul.

Future
The Future position in teh reading describes what is just around the corner. It's an official "heads up" about where the situation is heading and how you may navigate through it towards the best possible outcome.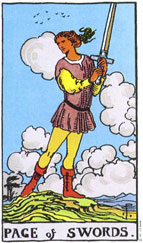 Page of Swords
Frequently, the Page of Swords refers to you, or someone who will strongly influence your life in the situation in question, but does not have to be male. He will seek higher ground, using his standpoint to master difficulties. He watches for trouble over his shoulder. In the card, the wind blows the trees and his hair, symbolizing changing circumstances, unpredictable behaviors, and wavering opinions that will compound the situation. Flexibility and adaptability will be key.

We hope you enjoyed your Three Card Reading. To go even deeper, try our more comprehensive Ten Card Reading.
Tarot Phone Readings
For an in-depth psychic look into your situation, call one of our Tarot phone readers and get your first three minutes free!
Brian Cain is available!
Let a Warlocks Wisdom Uncover the Truth! ... [see more]




$3.99/min -

First Time Callers get 3 Minutes Free!*

Pandora Pappas is available!
Honest, fast answers - here to get to the heart of matters with you! ... [see more]




$3.99/min -

First Time Callers get 3 Minutes Free!*

Joy Light is available!
Psychic Medium, Spiritual Counseling on Love & Relationships, Healer ... [see more]




$3.99/min -

First Time Callers get 3 Minutes Free!*

Tommy Ross is available!
Professional Tarot Card Reader & Teacher - 12 Years Experienced! ... [see more]




$2.99/min -

First Time Callers get 3 Minutes Free!*

Debra Floyd is available!
Certified professional psychic, psychic medium and Master Tarot reader! ... [see more]




$3.99/min -

First Time Callers get 3 Minutes Free!*

Cheryl Andary is available!
TESTED & CERTIFIED - HONEST yet gentle RELATIONSHIP EXPERT, non-judgmental. ... [see more]




$3.99/min -

First Time Callers get 3 Minutes Free!*

Marie Moon is available!
Psychic Reader of Energy ... [see more]




$3.99/min -

First Time Callers get 3 Minutes Free!*

Lillee Allee is available!
Accurate Answers, Real Results! Soulmate Specialist ... [see more]




$3.99/min -

First Time Callers get 3 Minutes Free!*

Michele Hudson is available!
Psychic Medium with a Gift to Empower You ... [see more]




$3.99/min -

First Time Callers get 3 Minutes Free!*

Chloe Anderson is available!
Accuracy Integrity & Detail ... [see more]




$3.99/min -

First Time Callers get 3 Minutes Free!*


Illustrations and images from the Rider Tarot Deck reproduced by permission of U.S. Games Systems, Inc., Stamford, CT 06902 USA. Copyright © 1971, 1982 by U.S. Games Systems, Inc. The Rider Tarot Deck ® is a registered trademark of U.S. Games Systems, Inc. The world's largest source of tarot and cartomancy is U.S. Games Systems, Inc. A catalog may be obtained by contacting the company at 179 Ludlow Street, Stamford, CT 06902, Fax: 203-353-8431 or call 1-800-544-2637.