These are the cards that the Tarot has drawn for you. You may want to save or print this page if you would like to ponder their messages later.
Past
The Past position in the reading refers to recent events and challenges that just took place, things that lead up to the present situation, and your role in them.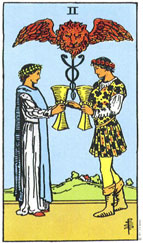 Two of Cups
Love and deep friendship are suggested by the Two of Cups. You may have entered into a fulfilling love relationship in your recent past. This union was based on passion and strength, symbolized by the lion, and a healthy attitude, suggested by the Caduceus, or wand of medicine. The man and woman facing each other, staring into one another's eyes, suggest the deeper sense of understanding that exists between them. You felt an understanding with this person that you have felt with few others. You may have even been thinking of, or planning, marriage.

Present
The Present position in the reading represents what is happening right now. Typically, this is what triggers you to seek out a reading. This card can often help you to understand what steps to take next.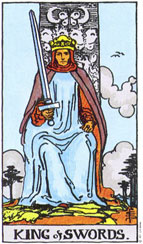 King of Swords
The King refers to you, or someone who strongly influences your life in the situation in question, but does not have to be male. He is an authority figure who wears the yellow crown of mental energy. The butterfly on his throne is a symbol of his emergence from a chrysalis: he transforms into the confident King depicted on the card. He has fought many psychological battles, and has gained wisdom, hence his purple mantle. He listens carefully to all sides, basing his judgement on his own experiences, trying to make the fairest decision. The birds flying over him, symbols of Air, fly above it all. Their vantage point offers them an impartial view, just like that of the King. He sometimes appears unapproachable, unfeeling, and cold because of his remote countenance. Apply his view to your current situation.

Future
The Future position in teh reading describes what is just around the corner. It's an official "heads up" about where the situation is heading and how you may navigate through it towards the best possible outcome.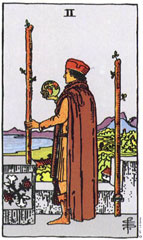 Two of Wands
The Two of Wands represents opportunity, especially in business. You may soon be laying the foundation for a new venture. You have already achieved some success, indicated by the wand fastened securely to the castle wall. Also note the lilies of purity balanced by the red roses of desire. This shows the balance with which you will approach your goal. The wand in one hand represents your undertaking and the globe in the other suggests the tremendous potential for success. The character in the image, looking out to sea, suggests trade and could indicate strong partnerships and alliances. You will soon be in the early stages of a prosperous enterprise.

We hope you enjoyed your Three Card Reading. To go even deeper, try our more comprehensive Ten Card Reading.
Tarot Phone Readings
For an in-depth psychic look into your situation, call one of our Tarot phone readers and get your first three minutes free!
Lillee Allee is available!
Accurate Answers, Real Results! Soulmate Specialist ... [see more]




$3.99/min -

First Time Callers get 3 Minutes Free!*

Joy Light is available!
Psychic Medium, Spiritual Counseling on Love & Relationships, Healer ... [see more]




$3.99/min -

First Time Callers get 3 Minutes Free!*

Shanti Skelly is available!
Got questions? Shanti can answer them! This clairvoyant medium KNOWS you already ... [see more]




$4.44/min -

First Time Callers get 3 Minutes Free!*

Debra Floyd is available!
Certified professional psychic, psychic medium and Master Tarot reader! ... [see more]




$3.99/min -

First Time Callers get 3 Minutes Free!*

Denise Mouton is available!
An authentic New Orleans Voodoo Priestess will help you discover your destiny! ... [see more]




$3.99/min -

First Time Callers get 3 Minutes Free!*

Colleen White is available!
Her authentic psychic ability will help guide you in your love life and career! ... [see more]




$3.99/min -

First Time Callers get 3 Minutes Free!*


Illustrations and images from the Rider Tarot Deck reproduced by permission of U.S. Games Systems, Inc., Stamford, CT 06902 USA. Copyright © 1971, 1982 by U.S. Games Systems, Inc. The Rider Tarot Deck ® is a registered trademark of U.S. Games Systems, Inc. The world's largest source of tarot and cartomancy is U.S. Games Systems, Inc. A catalog may be obtained by contacting the company at 179 Ludlow Street, Stamford, CT 06902, Fax: 203-353-8431 or call 1-800-544-2637.