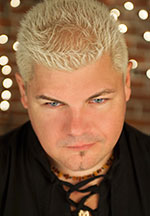 Nickolas Hawthorne is a traditional Witch and seer, gifted in the psychic and magickal arts. His gifts are a legacy inherited from his old New England Family and he will use them to help guide you through the challenges of love, career, and life. The arts of Witchcraft have always been used to predict our future husbands. Nickolas employs these powers to help determine if your love is the one for you.
Education and Experience
Nested on the branches of Nickolas' family tree are such notable names as 'Old Ned Dimond,' the 17th c. Wizard of Marblehead, whose power was to see the state of ships at sea, many miles away, comforting wives with news of their husbands. Old Dimond's granddaughter, 'Moll Pitcher,' the 17th c. Seeress of Lynn, predicted to George Washington that he would be victorious over the British in the Revolutionary War. Also in Nickolas' family was 'Nellie Marquis,' a 20th c. Spiritualist medium, still remembered by local natives as a gifted psychic of considerable skills and healing ability.

These skills and talents flow strong within Nickolas, allowing him to advise you on all matters of the heart, material good fortune and psychic protection.

Nickolas can also provide instruction on how to help yourself with the ancient arts of magick and Witchcraft and help you to find the magic within to transform your dreams into reality.
Nickolas Hawthorne is unavailable ... but you can arrange a call back!



$4.99/min - First Time Callers get 3 Minutes Free!*
Read Nickolas's Feedback! | Leave Feedback | Email Nickolas