| | |
| --- | --- |
| | |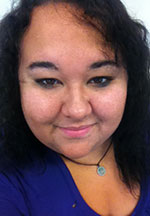 Ashley offers her intuitive abilities on relationships, career, life path, and manifesting your dreams under any circumstances. A clairsentient tarot reader, she needs only your name and specific question to share her quick and highly detailed insight. Able to hone into the deep thoughts of others, she excels at looking at relationship dynamics, whether they be romantic or platonic. In addition, Ashley can guide you toward discovering your own ability to uncover hidden obstacles, bring about self-assurance, and reveal untapped inner strengths. A kind, compassionate,but yet a blunt,straight forward person when it comes to aiding clients in their time with her, she tells each person what they need to know and what they need to hear. She believes arming yourself with the truth will help you remove perceived barriers, demystify any situation, and empower you to make confident choices with certainty. A strong empath, Ashley feels your energy and that of those around you. You will feel the way in which she looks at every individual as a unique being. A reading with her is a truly special experience that highlights important events on your life path. She feels gratified to bring new messages to you and hopes to awaken your own intuition
Education and Experience
She has read privately for a few years. She has done many local events in her home state and reads in the Haunted Happenings Psychic fair in Salem in October. She studied and received music education for 3 years at Umass Boston. So come and let her peer into the spirit world around you so you can help walk down that path clearly by working together!
CLAIRVOYANT
using this ability to see in visions what is coming , Ashley uses this to find the right door to help and to guide you on the right way for you to get what you want out of your life.

EMPATHIC
She know what others are feeling about you. If a relationship is becoming wacky, she can see why.

TAROT
uses the the ancient cards as a means to uncover hidden truths. She uses the cards in her clairvoyant way ... to open up the path a bit brighter.
Couples
Using her psychic abilities, she can help ascertain and find what's getting mixed up or what communication issues are going on with you and your partner.
Dreams
Tell her what your dreams showed you in nights previous, and she will tell the hidden meaning behind them and what message it holds!
Channeling/Medium
Here she channels the messages of guides, spirits angels or your guardians to give you the message theyobg to to give you. As a medium she listens to loved ones of old and newly gone to impart their wisdom to you as they flourish in the Summerland.
Ashley Sadie Rodrigues is available ... and ready to take your call!



$5.99/min - First Time Callers get 3 Minutes Free!*
Read Ashley's Feedback! | Leave Feedback | Email Ashley