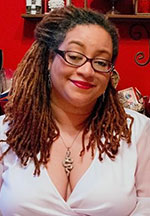 Elizabeth Ruth is a diviner, Vodouisant, and a practitioner of American Folk Magic. Contact her today for a reading!
Do you want clarity and focus for the things that lie ahead of you?

Do you have questions about

-- Love
-- Finances
-- Your job
-- Your future

Get the answers you need from Elizabeth Ruth, diviner and practicing Rootworker and Conjure woman in Chicago, IL.

Elizabeth Ruth has been offering her services to clients worldwide and helping them with their spiritual issues using divination Traditional Conjure, NOLA Voodoo, and Hoodoo. She can perform a Tarot, Lenormand, or Candle divination for you.
Education and Experience
Her magical practice is traditional American Folk Magic. It is a mixture of traditional Black, Native American, and European practices. She is diverse in her work, and she is comfortable working with clients of all backgrounds. She is often sought out for readings when clients are at a crossroads in their life and need the spiritual guidance to move ahead in the right direction.

She differs from other psychic readers in that she sees this work as her ministry. Her work as a spiritual life coach has changed many lives for better, and her clients will tell you that her readings are accurate and her work is HIGHLY effective. She can help you change your "most likely outcome," and give you the tools you need to turn your life around. Contact her today to let her help you take your fate until your own hands!
Elizabeth Ruth is unavailable ... but you can arrange a call back!



$3.99/min - First Time Callers get 3 Minutes Free!*
Read Elizabeth's Feedback! | Leave Feedback | Email Elizabeth