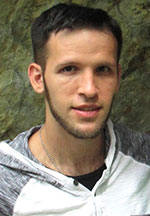 Craig Mayotte, is a practicing Salem Witch, ( He is not wiccan ) He has gainfully learned the Art of Witchcraft, Psychic Ability, Spirit Mediumship, He is a current Student of BlackroseWItchcraft. Craig has read Tarot, Oracle and Crystal Balls, for well over thirteen years, he is a Native of New England, and uses his Old World Ways into these Modern Days. Witchcraft has transformed his life in many ways, shapes, and forms, he uses his skills to help Heal, and Empower his Clients to see and unlock their true potential in this life. Craig will begin the reading with a Prayer and a Blessing and then get you into a meditative state for an easy and accurate reading via skype or phone calls. Craig has been able to connect clients with loved ones who have crossed over. He does offer Love, Wealth,Protection and empowerment Advice within the cards...at this current time he will not read any Health cards.
Education and Experience
Craig Mayotte studied Art and photography at RISD in Providence, Rhode Island, has attended online school at NewSchool of Fashion in New york city to learn the art of Styling and Branding. He currently signed up for an organization called #cut50 which helps as an effort to cut crime and incarceration across all 50 states
Craig Michael Mayotte is unavailable ... but you can arrange a call back!



$1.00/min - First Time Callers get 3 Minutes Free!*
Read Craig's Feedback! | Leave Feedback | Email Craig