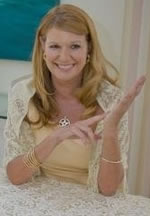 Psychic Readings that troubleshoot problems and offer practical solutions. Whether you have relationship issues, or need career and financial guidance, Sharona Evans is able to help you. Your reading will be confidential, empathetic and offer invaluable insights and advice.

Sharona Evans has been a practising Witch and Psychic for over 25 years. Her ability to clearly see the root of your problems is reknowned world-wide, and her intuitive and magickal experience will make short work of your troubles. Call Sharona today, and experience the relief and enjoyment a great psychic reading delivers.
Education and Experience
Sharona Evans has been helping people with her gifts for over two decades in the USA, Australia, Britain and Japan. Besides working with some of the most brilliant people in the metaphysical community, she has also successfully counselled people of every walk of life.
Her media credits include:

Honolulu Star Bulletin
Honolulu Advertiser
Spokesperson for Suishowin Japan
Washington Post
The Smith and Barber Show
Breakfast with Rory King on Island 98.5
Tradeshowlifestyles Las Vegas (columnist)
Adelaide Advertiser
The News South Australia
SAS Channel 10
KMGBTV Honolulu

Sharona Evans has also been called in a consultant for
United States Armed Forces
United States Military Chaplaincy in Hawaii
Documentary on Witchcraft for Japan. (1994)
Consultant to author Richard Bellush Jr


Sharona Evans is unavailable ... but you can arrange a call back!



$4.99/min - First Time Callers get 3 Minutes Free!*
Read Sharona's Feedback! | Leave Feedback | Email Sharona