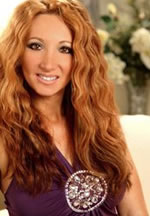 Sahvanna Arienta is a practicing psychic medium, intuitive advisor and author. Call for clarity on all your life issues, relationships, career, health or any other aspect you need guidance on. She has studied and explored the metaphysical and mediumship practices extensively for more than twenty years. Accurate predictions and clear answers.
Education and Experience
Clairvoyant, Clairaudient and Clairsentience, tarot reader and psychic medium. Sahvanna is the author of three best selling books and teaches her own certification courses. She has also created her own tarot deck Sahvanna Tarot.

Sahvanna Arienta is unavailable ... but you can arrange a call back!



$6.99/min - First Time Callers get 3 Minutes Free!*
Read Sahvanna's Feedback! | Leave Feedback | Email Sahvanna