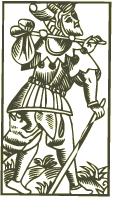 May you find good fortune on your travels on the Web and through life. Much like your favorite novel, we hope the Salem Tarot Page is a book you will want to open again and again. The following links have been provided as guideposts along your journey. These sites are excellent resources, especially for beginners.
Merry meet, merry part, and merry meet again.
The following links represent what I feel to be among the best sites on Tarot, Witchcraft, Salem, and other related subjects. Sites that make it into these categories are chosen based on design, content, and ease of use. Be sure to bookmark their pages and tell them Salem Tarot sent you.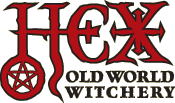 246 Essex Street, (978) 666-0765
Cast your own spell at Salem's newest Witch shop! Located across from the Samantha statue, Hex honors the old ways of Witchcraft and Hoodoo with ritual tools, jewelry, incense, candles, oils, statues, charms, roots, and herbs! Also get readings from Salem Witches (and proprietors) Christian Day and Leanne Marrama! Click here to visit us online!

Psychics for Hire
Christian's site that features live psychic phone readings by real psychics!
Tarotpedia
This online encyclopedia dedicated just to Tarot is an amazing collaborative where users contribute, just as they do on Wikipedia! Anyone can become a member and add to the collective knowledge concerning Tarot Cards, Tarot Decks, Tarot Books, Tarot Usage, Tarot History, and everything else concerning the world of Tarot.
Intuitive Tarot
This fabulously designed site is easy to navigate and features a variety of information on Tarot, Witchcraft, and other occult subjects, and offers deck reviews, readings, and a discussion board.
Tarot Passages
Webmaster, Diane Wilkes provides incredible insight into numerous Tarot Decks, with in-depth reviews and analysis of the cards. Updated often, Tarot Passages also features poetry and articles, and many links to other sites. Students will appreciate the many "sample readings" offered.
aeclectic tarot
Dedicated to the diversity & beauty of Tarot. See images of Tarot cards, read reviews of Tarot decks and Tarot books, learn about Tarot, receive Tarot readings, visit Tarot links, or join our Tarot community.
The Alchemical Egg
Visit the web site of Robert M. Place, creator of The Alchemical Tarot, The Tarot of the Saints, and The Angels Tarot. This site contains articles on Robert's decks and on magic and mysticism and also features his art and mystical jewelry.
Tarot of Timeless Truth
This breathtaking new deck features collages of art and photography. Images are often modelled after the Rider Waite so those who are familiar with that deck will find interpreting the symbols, making the transition to this deck a joy. It'st's exciting to see these images brought to life in photographic form! The deck also features extensive correspondences for keywords, the Kaballah, runes, the hebrew alphabet, and astrology. Users of any of these systems will find the deck a compelling addition to their practices!
Lotus Tarot
Alison Day's site offers free online tarot card readings, card meanings, a learn tarot course, tarot articles and a discussion forum.
The Crystal Tarot
Holistic healing and crystal healing. A Brooklyn-based healer with years of experience and healing results


Festival of the Dead
An annual Halloween event series in Salem, Massachusetts, that explores death's macabre customs, heretical histories, and strange rituals. Hosted by the foremost authorities on the spirit world, Festival of the Dead beckons guests to step through the veil into a realm where spirits await.
Sorcery of the Sun
This August, join the Salem Witches and other magical traditions for the first harvest as we cast a spell of summer over the city of Salem, Massachusetts, honoring the power of light and the wonder of the faeries who walk among us. Dine, dance, divine the future, and delve into spiritual mysteries. Click here to become part of our Sorcery of the Sun!
Haunted Salem! Where it's Halloween Every Day of the Year!
Salem, Massachusetts is home to a world of haunting enchantments! Visit the Witch City for spellbinding shops, strange museums, mysterious history, ghostly tours, great restaurants, and spooky family fun! Whether you seek to unravel Salem's haunting past, or to experience Salem's bewitching present, a journey to Salem, Massachusetts is a journey into wonder and magic.
Witchcraft in Salem Village
This informative site was created by the Danvers Archival Center, the local history, rare book and manuscript department of the Peabody Institute Library of Danvers, Massachusetts, with the support of the Electronic Text Center at the University of Virginia. Danvers was the original location of Salem Village, home to the accused and accusers. The site is designed to provide accurate general information about the 1692 witchcraft events, as well as information on other aspects of Danvers' history. This is one of the greatest resources for information on the trials you'll find, including the transcripts from the trials themselves!
The Broom Closet
3 Central Street, (978) 741-3669
Salem's Finest Shoppe for Witches and Others
For those who prefer a more supernatural form of travel, choose your preferred mode of Witchy transportation at the Broom Closet! While they don't actually take flight, a good Witch's broom is said to offer protection over one's home and hearth and aid in astral travel. This charming shop also features magical attire, incense, candles, fine jewelry, a large selection of herbs and stones, tarot cards, and many "Witchellaneous" items. The Broom Closet features psychic consultations with Shawn Poirier, High Priest of the Salem Tradition of Witchcraft and co-host of Festival of the Dead!
Witch City Documentary
"Witch City" - told thru the eyes of a returning native of Salem... this site offers a tour of the film, background on its makers (all with local roots), schedules of upcoming screenings and purchase info...Check out the sampling of positive and negative crticism on its "You Luv Us/You Hate us" page - and email your own thoughts. Of course, you can Christian as he was in 1991 when he made a few appearances throughout the film!
Salem Witchcraft Hysteria
This site is one of National Geographic's wonderful offerings. Experience the Salem Witchcraft Histeria for yourself, as you take part in a multimedia presentation of the trials. You will stand trial for the charge of Witchcraft. Are you innocent? You'll soon know as you explore this fascinating and well presented site. Also included are an overview of the trials, a comprehensive travel and visitors' guide, how to ask questions of local historian Richard Trask, and even a way to send a postcard from Salem to someone you know.
Salem Witch Museum
The official website of the Salem Witch Museum is the online presence of Salem's most popular tourist attraction. Offering Museum tour info, tour of the Witch Trial sites of 1692, an FAQ on the Salem Witch Trials, and an online gift shop, this site is almost as exciting as the Museum itself.
The House of Seven Gables
This site features information about both the famed House of Seven Gables, featured in Nathanial Hawthorne's well known novel, and 1630 Pioneer Village, a live reenactment of Salem's colonial days. Explore the famous house, as well as the Gardens, the museum store, and view a calendar of events, functions, and exhibits. Don't forget the secret staircase!

The Witches Voice
Fritz and Wren Walker are, in our opinion, among the greatest freedom fighters that the pagan movement has ever seen. They maintain one of the most informative sites on the Internet, and have been duly recognized for it. If you want to learn more about Witchcraft, and get the latest news on the struggle for Witches' freedom, this is the place to start. We also hope that more Witches follow their lead in bringing such strong content to the web.
Earthspirit Online
EarthSpirit is a non-profit organization providing services to a nationwide network of Pagans and others following an Earth-centered spiritual path. Based in the Boston area, their membership extends across the United States, and also to several other countries. The Earthspirit Community sponsors some of the finest public circles and festivals we have ever attended, and their site is a fantastic resource for pagans. For those familiar with the Pagan music group, MotherTongue, the lyrics for all their songs can be found at this site as well.

The following links don't fit evenly into the categories of Salem, Tarot, or Witchcraft, but they do explore many doorways to occult wisdom, magic, or divination, so we thought you might enjoy them.
Cryptique
Christian had the pleasure of designing, copyrwriting, and developing the website for this gorgeous addition to the long line of mysterious talking boards. The site includes a history of talking boards, free downloads, a way to purchase Cryptique, and a virtual online board where you can experience the wisdom of the talking board through your own computer.
Bloody Mary's Tours
Bloody Mary, Poet Priestess of New Orleans, expert and New Orleans, Voodoo, and cemeteries, and social historican offers tours through the New Orleans' French Quarter, and some of the local cemeteries, including New Orleans' only evening cemetery tour!
Mythography
Mythography features information about the myths and art of the greeks, romans, and celts. From Gods and Goddesses to heros, heroines, lovers, and legends, your thirst for classical knowledge of these three groups can be sated here. It is easy to navigate, tastefully designed, and chock full of lore for seekers and serious students of mythology alike. We highly recommend you spend some time browsing, and if you have a specific question it does not answer with a quick search, surf to the Mythography message forum.
Pagan Chants of the Month Page
For solitary Witches, learning chants and songs of the old ways can be a challenging task. Especially for those in areas where buying pagan related music is not an option. We include this site for all those yearning to sing the songs of Witchery and respect for the Earth. All these songs feature versions in RealAudio so that they can be listened to over the web in fast loading streaming audio! Explore their archives for hours of music for your solitary or coven practices.
Cafe Nation
For the coffee lover in all of us, Sandra Posey presents a coffee-based divination system which draws upon the history of the beverage and its attendant beliefs (legends, magick, folk medicine, fortune-telling) while updating them for our contemporary world. Her free online coffee readings are nothing short of spectacular.
The Encyclopedia Mythica
Be sure to visit this encyclopedia on mythology, folklore, magic, and more. Offering thousands of definitions of gods, goddesses, and other supernatural beings from around the world, you're sure to find just the right deity to help in your spell or ritual!