King of Swords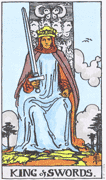 The King refers to you, or someone who strongly influences your life in the situation in question, but does not have to be male. He is an authority figure who wears the yellow crown of mental energy. The butterfly on his throne is a symbol of his emergence from a chrysalis: he transforms into the confident King depicted on the card. He has fought many psychological battles, and has gained wisdom, hence his purple mantle. He listens carefully to all sides, basing his judgement on his own experiences, trying to make the fairest decision. The birds flying over him, symbols of Air, fly above it all. Their vantage point offers them an impartial view, just like that of the King. He sometimes appears unapproachable, unfeeling, and cold because of his remote countenance. Apply his view to your current situation.
Return to Tarot Meanings to see more cards!

Illustrations and images from the Rider Tarot Deck reproduced by permission of U.S. Games Systems, Inc., Stamford, CT 06902 USA. Copyright © 1971, 1982 by U.S. Games Systems, Inc. The Rider Tarot Deck ® is a registered trademark of U.S. Games Systems, Inc. The world's largest source of tarot and cartomancy is U.S. Games Systems, Inc. A catalog may be obtained by contacting the company at 179 Ludlow Street, Stamford, CT 06902, Fax: 203-353-8431 or call 1-800-544-2637.