The Devil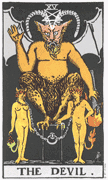 The Devil is the sixteenth card in the Major Arcana, and is given the number 15 to indicate the Magician (1) using the (5) elements (earth, air, fire, water, and spirit) for materialistic purposes. Note the Devil's four fingers and thumb held up (5), while the cudgel (1) aims the power down at the earth...the reverse position of the Magician. The inverted pentagram on the Devil's forehead is a symbol indicating spirit submerged in and subjugated by matter, or the material world. The Devil presides over a couple from a superior position, in a perversion of the trio on the Lovers card. The couple remain chained to his solid block of stone, though the shackles are loose. They are naked, vulnerable—and yet their faces remain calm. They are entranced by the promises of superficial gain that the belief in the Devil has given them. They remain chained to their worldly desires, believing that only what is concrete and physical is important.
When the Devil appears in a reading, it can indicate pettiness, materialism, and base desires. In the Christian faiths, the Devil is the enemy. Like Lucifer, whose vanity and conceit cost him God's favor, the Devil in the Tarot can be a warning to the selfish and egotistical. Overall, the Devil is a long, hard look at our darker selves, and a reminder that if pushed to the side and allowed to fester in darkness, our dark sides only grow more grotesque, and erupt when we least expect them, or when we just plain lose control. If you fear that you have not fully accepted the parts of yourself you dislike, don't lock them away. Bring them, slowly and safely, into the light. It will break the chains, and set you free.
Return to Tarot Meanings to see more cards!

Illustrations and images from the Rider Tarot Deck reproduced by permission of U.S. Games Systems, Inc., Stamford, CT 06902 USA. Copyright © 1971, 1982 by U.S. Games Systems, Inc. The Rider Tarot Deck ® is a registered trademark of U.S. Games Systems, Inc. The world's largest source of tarot and cartomancy is U.S. Games Systems, Inc. A catalog may be obtained by contacting the company at 179 Ludlow Street, Stamford, CT 06902, Fax: 203-353-8431 or call 1-800-544-2637.