The World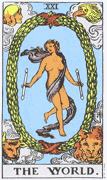 The World is the twenty-second card in the Major Arcana, and is given the number 21 to indicate the subconscious mind of the High Priestess (2) uniting completely with the conscious mind of the Magician (1). A figure dances in the center of a giant victory wreath. The creatures that symbolize the four elements have materialized, taking on more realistic forms. The dancer is widely considered a hermaphrodite, symbolizing the unity of the masculine and feminine aspects to form a complete whole. The wreath is adorned with two red sashes, each one forming the sign of infinity. These symbolize the eternal cycle of life, death, and rebirth. The dancer passes through the wreath, entering a new phase of development, holding two wands. These wands channel the energy outward and inward, in an endless flow. The Wheel has come full circle, and the Dance of Life begins again, coiling ever upward toward divinity.
The World is a card of unlimited potential put into experienced hands: the opportunity of a lifetime. Its image literally states "the sky's the limit". If you have been waiting for your chance, this is IT. You have the tools to accomplish your goal, and the door is open. The World is a card of action. Of all the Major Arcana, only the first (The Fool) and the last (The World) show movement. While The Fool is like the dawn of creation and its promise, the World is like the hallmark of self-actualization. The benefits indicated by this card are truly as limitless as the cosmos it represents.
Return to Tarot Meanings to see more cards!

Illustrations and images from the Rider Tarot Deck reproduced by permission of U.S. Games Systems, Inc., Stamford, CT 06902 USA. Copyright © 1971, 1982 by U.S. Games Systems, Inc. The Rider Tarot Deck ® is a registered trademark of U.S. Games Systems, Inc. The world's largest source of tarot and cartomancy is U.S. Games Systems, Inc. A catalog may be obtained by contacting the company at 179 Ludlow Street, Stamford, CT 06902, Fax: 203-353-8431 or call 1-800-544-2637.