These are the cards that the Tarot has drawn for you. You may want to save or print this page if you would like to ponder their messages later.
Past
The Past position in the reading refers to recent events and challenges that just took place, things that lead up to the present situation, and your role in them.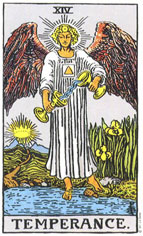 Temperance
Temperance is the fifteenth card in the Major Arcana, and is given the number 14 to indicate that the Magician (1) has now learned to combine each of the four physical elements (4), to achieve balance. An angelic figure stands with one foot on land and one on the water, pouring liquid at an impossible angle from one cup to another with ease. This entity has integrated the emotional, spiritual, subconscious realm symbolized by the water with the physical, practical, conscious realm symbolized by the earth. The balancing act with the cups and the liquid denotes the ability to juggle situations fluidly, making it look effortless...though others may wonder how it is done! The bright sun in the distance and the planetary sigil for the Sun on the angel's brow indicate a positive, promising outlook.

Temperance in your past indicates that the root of your issue lies in a time when there was a need for moderation. To bring things back into balance, you were required to seek common ground with those involved, and act calmly rather than defensively. You spoke your truth evenly, without too much anger (fire), without being too wishy-washy (water). Rather than taking off in an uncharted direction that would have taken you far off course, you followed the road through the center. It gave you plenty of choices to bear left or right when necessary, but kept you close to the safety of the well-worn path. Temperance can indicate a need to slow down, or simply to stop. This may have included indulgences, vices, and bad habits.

Present
The Present position in the reading represents what is happening right now. Typically, this is what triggers you to seek out a reading. This card can often help you to understand what steps to take next.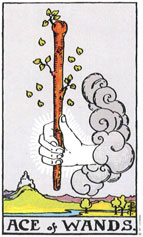 Ace of Wands
All that is best in the suit of Wands is embodied in the Ace: the power of Will, desire, sexuality, and vitality are abundant at this time. Just as the leaves burst forth with such force that they are seen falling from the Wand, your energy brings forth many fertile beginnings. This card symbolizes the healthy, positive outlook that should be held in the present situation. Great things are indicated.

Future
The Future position in teh reading describes what is just around the corner. It's an official "heads up" about where the situation is heading and how you may navigate through it towards the best possible outcome.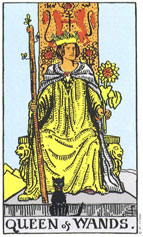 Queen of Wands
The receptive aspect of Fire, the Queen refers to you, or someone who will strongly influence your life in the situation in question, but does not have to be female. In the card, the black cat at the Queen's feet can signify a guardian. Someone will be watching out for you, or one close to you. Her throne is adorned with Lions, totems of Fire, symbols of royalty, and traditionally seen as fierce guardians. The Queen herself is full of passion. Her parted legs signify her intense desires and strong sexual energy. If this energy is not found in your life, you will feel stagnant, bored, or hopeless. If it is pursued, you may experience a time of great pleasure and joy. Just as the sunflower depicted on the card always turns toward the light, the Queen of Wands seeks the positive. She shows a real lust for life. Will you?

We hope you enjoyed your Three Card Reading. To go even deeper, try our more comprehensive Ten Card Reading.
Tarot Phone Readings
For an in-depth psychic look into your situation, call one of our Tarot phone readers and get your first three minutes free!
Hope Marlow is available!
Psychic, Tarot, &Spirit Guide Coach. Guidance for love, career, health, money ... [see more]




$3.99/min -

First Time Callers get 3 Minutes Free!*

Syrenity Jones is available!
No Frills * No Fluff * 99 % Accuract Answers *Non-judge mental *Caring ... [see more]




$2.50/min -

First Time Callers get 3 Minutes Free!*

Joy Light is available!
Psychic Medium, Spiritual Counseling on Love & Relationships, Healer ... [see more]




$4.99/min -

First Time Callers get 3 Minutes Free!*

Oscar Brock is available!
Druidic Witch Oscar Brock can show you your heart's hopes and fears in the card ... [see more]




$3.99/min -

First Time Callers get 3 Minutes Free!*

Tony Parker is available!
Honest Accurate Psychic Tarot Readings with Exact Time-Frames 48+ Yrs Experience ... [see more]




$3.99/min -

First Time Callers get 3 Minutes Free!*

Benita Kay is available!
Certified Angel Oracle Card Reader / Psychic / Spiritual Healer ... [see more]




$4.99/min -

First Time Callers get 3 Minutes Free!*

Christine Lenihan is available!
Christine will help guide you on your path of destiny! ... [see more]




$4.99/min -

First Time Callers get 3 Minutes Free!*


Illustrations and images from the Rider Tarot Deck reproduced by permission of U.S. Games Systems, Inc., Stamford, CT 06902 USA. Copyright © 1971, 1982 by U.S. Games Systems, Inc. The Rider Tarot Deck ® is a registered trademark of U.S. Games Systems, Inc. The world's largest source of tarot and cartomancy is U.S. Games Systems, Inc. A catalog may be obtained by contacting the company at 179 Ludlow Street, Stamford, CT 06902, Fax: 203-353-8431 or call 1-800-544-2637.