These are the cards that the Tarot has drawn for you. You may want to save or print this page if you would like to ponder their messages later.
Past
The Past position in the reading refers to recent events and challenges that just took place, things that lead up to the present situation, and your role in them.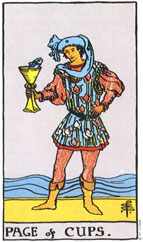 Page of Cups
The Page of Cups is a card of creative imagination, deep feelings, and psychic aptitude. The young man in the picture stands in front of the great sea of emotions in the background. The fish emerging from the cup represents the range of the Page's great imagination The Pages are students, and so in the suit of Cups the lessons learned are the exploration of emotion, imagination, and perhaps even psychic ability. This card can represent a state of being you have experienced, or possibly a younger person in your life with these qualities who was a source of emotional strength for you.

Present
The Present position in the reading represents what is happening right now. Typically, this is what triggers you to seek out a reading. This card can often help you to understand what steps to take next.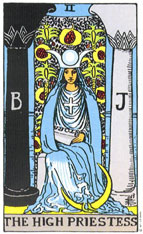 The High Priestess
The High Priestess is the third card in the Major Arcana, and is given the number two to indicate the polarity inherent in all things. She sits between the pillars of light and darkness, mercy and severity, positive and negative. She has withdrawn from outside influences, going deep within to gain knowledge from behind the veil of consciousness. The scroll in her lap is labeled "TORA", the name of the Hebrew holy book, indicating her link to divinity. Behind her, the eternal ocean of emotions and intuition ebbs and flows, and she is the key to its mysteries.

The High Priestess indicates that you are seeking more esoteric knowledge, experiencing a spiritual awakening. The attainment of such wisdom requires discipline. She also reminds you to look for the subtle meanings beyond everyday events. You must listen to your inner voice to hear the truth that lies beyond the shallow, mundane world. Trust your instincts.

Future
The Future position in teh reading describes what is just around the corner. It's an official "heads up" about where the situation is heading and how you may navigate through it towards the best possible outcome.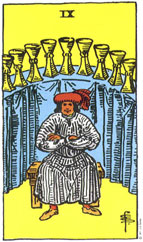 Nine of Cups
Enjoying the fulfillment of desire is indicated by the Nine of Cups. You may soon reach a place in your life where you are comfortable and happy, and are able to enjoy the many rewards of your past actions. Contentment and luxury are suggested by the imagery of the man, sitting comfortably, enjoying the nine cups arranged on the banquet table. Life is your banquet, and you've earned the right to enjoy it. In old tradition, the Nine of Cups is the "Wish Card" and was always thought to mean the fulfillment of one's innermost desires.

We hope you enjoyed your Three Card Reading. To go even deeper, try our more comprehensive Ten Card Reading.
Tarot Phone Readings
For an in-depth psychic look into your situation, call one of our Tarot phone readers and get your first three minutes free!
Joy Light is available!
Psychic Medium, Spiritual Counseling on Love & Relationships, Healer ... [see more]




$4.99/min -

First Time Callers get 3 Minutes Free!*

Hope Marlow is available!
Psychic, Tarot, &Spirit Guide Coach. Guidance for love, career, health, money ... [see more]




$3.99/min -

First Time Callers get 3 Minutes Free!*

Tony Parker is available!
Honest Accurate Psychic Tarot Readings with Exact Time-Frames 48+ Yrs Experience ... [see more]




$3.99/min -

First Time Callers get 3 Minutes Free!*

Jennifer Scott Smith is available!
Clairvoyant and Tarot Readings, Psychic Mediumship ... [see more]




$3.99/min -

First Time Callers get 3 Minutes Free!*

Benita Kay is available!
Certified Angel Oracle Card Reader / Psychic / Spiritual Healer ... [see more]




$6.99/min -

First Time Callers get 3 Minutes Free!*

Shalimar is available!
Popular Psychic Intuitive~Life Coach from Salem! ... [see more]




$5.99/min -

First Time Callers get 3 Minutes Free!*


Illustrations and images from the Rider Tarot Deck reproduced by permission of U.S. Games Systems, Inc., Stamford, CT 06902 USA. Copyright © 1971, 1982 by U.S. Games Systems, Inc. The Rider Tarot Deck ® is a registered trademark of U.S. Games Systems, Inc. The world's largest source of tarot and cartomancy is U.S. Games Systems, Inc. A catalog may be obtained by contacting the company at 179 Ludlow Street, Stamford, CT 06902, Fax: 203-353-8431 or call 1-800-544-2637.