These are the cards that the Tarot has drawn for you. You may want to save or print this page if you would like to ponder their messages later.
Past
The Past position in the reading refers to recent events and challenges that just took place, things that lead up to the present situation, and your role in them.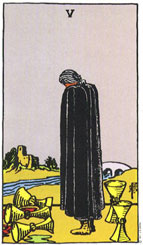 Five of Cups
The Five of Cups suggests that you have recently been upset over a loss or disappointment. The three cups spilled at the man's feet in the picture indicates the loss you've experienced. You may not be aware of the strong support system that remains, indicated by the two cups still standing. Your friends and loved ones have been offering their support but you have focused too much on the disappointments. The river in the image suggests the troubled emotions that have made you feel lost and distant; you have cut yourself off from the joy and love associated with home. Remember to notice the bridge that isn't far from view. It can lead you home again, into the arms of your loved ones.

Present
The Present position in the reading represents what is happening right now. Typically, this is what triggers you to seek out a reading. This card can often help you to understand what steps to take next.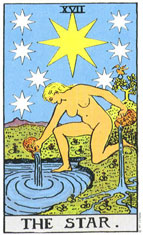 The Star
The Star is the eighteenth card in the Major Arcana, and is given the number 17 to indicate the conscious mind represented by the Magician (1) opening up to the many directions possible with the control over his Chariot (7). Below one giant yellow star (1), and seven smaller white stars (7), a beautiful woman kneels with one knee on land and one foot on the water. With a jug in each hand, she pours water into both. She is taking inspiration from her creative, intuitive side (water), applying it to her surroundings and daily life (earth), and using the power it gives her to replenish the source of her creativity (water), making a complete cycle. In essence, she is healing herself with water, the source of all life. Her nakedness is symbolic of her purity and honesty, to others as well as to herself. She is in her most natural state, indicating that her task comes with ease, and her calm, serene expression gives her work a meditative quality.

The Star represents your hopes and dreams. If you have ever wished that you could do meaningful work that you could actually enjoy, the Star indicates an opportunity. It is time for you to pursue your dream. Go to the source within your mind and heart, and replenish yourself by freeing your spirit. Allow your true self to shine through. Immerse yourself in the things that bring you joy, and inner peace. If your situation indicates health issues, this is a card that indicates a replenishing and healing of the physical body as well.

Future
The Future position in teh reading describes what is just around the corner. It's an official "heads up" about where the situation is heading and how you may navigate through it towards the best possible outcome.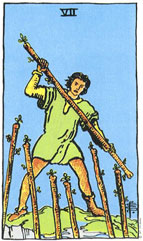 Seven of Wands
The Seven of Wands is a card of defense and confrontation. You will soon be forced to face a conflict head on. You will be cornered and will have no choice but to confront the source of the turmoil. While you are successful and respected, there are those around you who would seek to knock you off your throne of position. Your only choices will be to forfeit what you've worked for or to fight. Wands represent passion and fire and these are what you feel for your position and what you've accomplished. Use your vantage point at the top of the mountain to strategically plot your next move. This will not be a time for compromise. You must adhere to your deeply held beliefs if you want to succeed in the battle.

We hope you enjoyed your Three Card Reading. To go even deeper, try our more comprehensive Ten Card Reading.
Tarot Phone Readings
For an in-depth psychic look into your situation, call one of our Tarot phone readers and get your first three minutes free!
Kydra Sommer is available!
Certified Psychic of 25 years, Gifted Chanelor, Energy Reader Em Path ... [see more]




$2.99/min -

First Time Callers get 3 Minutes Free!*

Pandora Pappas is available!
Honest, fast answers here to get to the heart of matters with you ... [see more]




$4.25/min -

First Time Callers get 3 Minutes Free!*

Anna Mitchell is available!
Love Psychic Tarot Card Reader and Spiritual Advisor ... [see more]




$2.00/min -

First Time Callers get 3 Minutes Free!*

Joy Light is available!
Psychic Medium, Spiritual Counseling on Love & Relationships, Healer ... [see more]




$4.99/min -

First Time Callers get 3 Minutes Free!*

Tony Parker is available!
Honest Accurate Psychic Tarot Readings with Exact Time-Frames 48+ Yrs Experience ... [see more]




$3.99/min -

First Time Callers get 3 Minutes Free!*

Christine Lenihan is available!
Christine will help guide you on your path of destiny! ... [see more]




$4.99/min -

First Time Callers get 3 Minutes Free!*

David Newman is available!
Psychic, Witch, Master Tarot Advisor ... [see more]




$4.99/min -

First Time Callers get 3 Minutes Free!*

Oscar Brock is available!
Druidic Witch Oscar Brock can show you your heart's hopes and fears in the card ... [see more]




$3.99/min -

First Time Callers get 3 Minutes Free!*


Illustrations and images from the Rider Tarot Deck reproduced by permission of U.S. Games Systems, Inc., Stamford, CT 06902 USA. Copyright © 1971, 1982 by U.S. Games Systems, Inc. The Rider Tarot Deck ® is a registered trademark of U.S. Games Systems, Inc. The world's largest source of tarot and cartomancy is U.S. Games Systems, Inc. A catalog may be obtained by contacting the company at 179 Ludlow Street, Stamford, CT 06902, Fax: 203-353-8431 or call 1-800-544-2637.